Website design services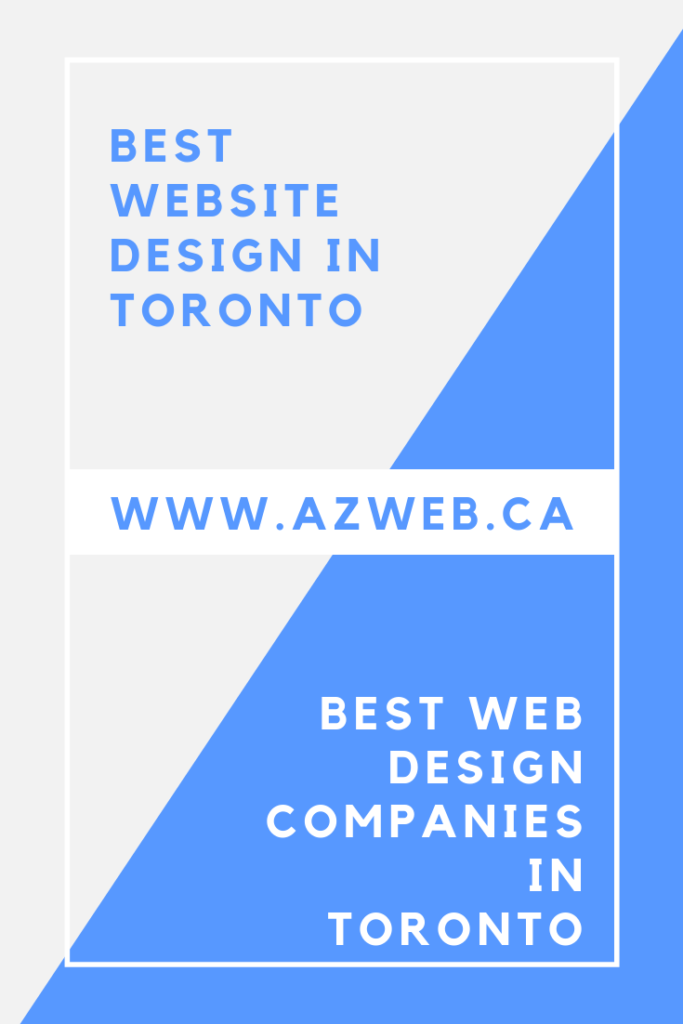 If you want to make best out of your business, you have landed on the correct place. We are the best website design company in Toronto and we offer best website design services. We are here to help you out with our skills. AZWeb is having the best team of professionals. We are always ready to turn your dream into reality. All our team members are web design professionals with heavy experience. This quality experience ensures our costumer's trust.
Following things are needed for creating any type of websites
Domain name is the name of our website. We have to choose an available domain name for our website from any domain name registrar. This domain name is used for visiting our website. Some of the domain name registrar are as follows:
To run our website on internet we need to host our website on the servers. These are nothing but active super computers. These servers have high computational and capacity power. These servers are the platform where we can store our database and our website program files. The hosting servers provide the required files when the clients request it. Siteground is an example of a hosting server provider.
Designing a professional website is the best way to beat the competition with your opponents. This helps you in achieving success in your domain. Basically, web designing comprises of two sections:
Front end designing
Here we try to make our website user friendly. This section comprises of all types of logos and graphics. The graphics, medias and such stuffs make the content of the website look clean. We design widgets for user. This helps the user to navigate to the entire website, wherever he wishes.
Back end designing
Here the developer try to link every part of the website with the other part. This section deals with the internal assembly of the website. The developer decides all the permissions and controls of the website in this step.
The main secret behind our success is that we are always committed to costumer's satisfaction. We at AZWeb provide a wide range of website design services, some of which are listed below:
1) Designing any kind of website
The following factors defines the front end of the Website. This step is very much important to analyse the traffic of the website:
  Who is the audience for the website?
  What age group is going to access that website?
  Which languages should I adopt for my website?
  What are the challenges in the path of creating that website?
  What does the user expect from the website, etc?
Branding is very important in any business. Branding takes our business to its new heights. The logo of any company is the first thing the consumer sees before he/she buys anything. It should also be given priority. It plays a very crucial role in spreading their product in masses. We at AZWeb are very much concerned about the profit of our clients. We, therefore, make it a point to give the best part from the best team whether it may be a simple blogging website or high-class tutorials websites. We are always here, with our best team to help you out with this also.
3) SEO (Search Engine Optimization)
Do you want the first rank of your website on google? Our Search Engine Optimization team is always ready to help you out.
Let me explain how our team of SEO does this for you in brief; We have a strategy for dealing with SEO and have divided it into three parts.
  SEO on a particular page
Here we tune the page which is to be optimized so that it ranks good on search engines.
  SEO beyond that particular page
Here our team analyses all the traffic. They observe which are the external sources of the traffics and then tunes and optimizes the external sources.
  Technical SEO
In this section, our team at AZWeb try to analyse the internal logic of the website. They try to gain insights from the internal structure of the website and then optimizes the website.

Now let us discuss more about the websites. There are two type of websites. Let us deal with them in the following section
They are very simple, the data is pulled from the server and displayed in the front end for the user. Modification of these type of websites is tough task. It requires a lot of programming knowledge.
If we need to change one element of the website then we need to change all the pages where this element is present. In a nutshell, its content which it displays in always the same. This information does not change according to the user. In 2019 most of the developers have shifted from static websites to dynamic websites.
These websites require less efforts than that of the static websites. The content of the website keeps on changing. These changes depends on various factors like geographical area, user, etc. These websites are easy to manage. Here we use a template in which the developer just type's the content. According to the content, the main website changes respectively. These types of website make website management easier and simpler. It is expensive to build these types of websites. Building a dynamic website is a slower process.
How Are We Different From Others?
We are the best in website design services in Toronto, We are always providing the best and unique themes, plugins. These themes and plugins are always customized and unique as per client's requirement. Since being in the top "web design companies in Toronto" we take it as our responsibility to serve our customers when they are in need. We have a special team who is always available 24 hours a day. This team is dedicated for supporting our clients and help theme resolve their website issues, this keeps us in touch with the client. We always record the feedback from our customers and always strive for the betterment of our partnerships.
If you have any doubts or queries you can always contact us by emailing us, call us or drop by our office. We would be glad to listen to any suggestion or feedback from you.